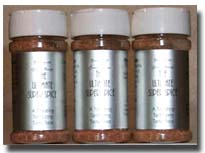 Price is $3.99 with $1.00 shipping for each bottle ordered. Discounts are available on quantity orders. (2/10/net30)
Please e-mail or call (505) 326-2462 for additional information.
If you prefer to order by credit card, please visit our corresponding link. If you wish to pay by check or money order, please send payment to:
The Ultimate Super Spice
7403 Mayfair Dr. Box 11
Farmington, NM 87402
Or, if you would like a taste test, send a Self Addressed Stamped Envelope with one dollar to receive a tempting sample of The Ultimate Super Spice!